Who does not love the smell of rosemary? Whether using it in your cooking or just enjoying the aroma, this herb is a powerhouse of benefits. However, some people do not know that rosemary oil has its bountiful beauty perks! Keep reading to learn about some spectacular ways to use rosemary essential oil. You might be surprised at all the things it can do!
KNOW MORE ABOUT ROSEMARY OIL
There is something special about rosemary oil. It has a long history of use and has effortlessly drawn many people with its many benefits. But how did rosemary essential oil come to be? Let us travel back in time and look at the history of rosemary oil. By understanding the past, we can better appreciate the present!
ROSEMARY OIL HISTORY AND ORIGIN
Rosemary oil ( Rosmarinus officinalis ) is derived from the fine-leaved perennial plant of the Lamiaceae family. There are several theories on the origin of the name of this renowned fragrant plant, such as being a derivative of the Latin word, Ros Maris, which translates to sea dew. The rationale for this was that wild rosemary thrived along the coastlines of the Mediterranean Sea.
In ancient Egypt, rosemary has earned a position in spiritual rituals and ceremonies as a sign of remembrance. The ancient Egyptians honoured their loved ones by placing rosemary sprigs on their coffins. Moreover, ancient Greeks also burned dry rosemary as a gift to the gods. Rosemary oil was popular with pilgrims in the Middle Age, who used it for its calming effects after long hikes.
ROSEMARY OIL PRODUCTION
Rosemary oil is commonly produced using steam distillation. In which the fresh or dried rosemary plant is deposited in a still chamber where the process will take place. After the steam distillation is complete, the rosemary essential oil and fragrant water are separated using a graduated cylinder. Then, the aromatic water and oil are stored in separate amber containers.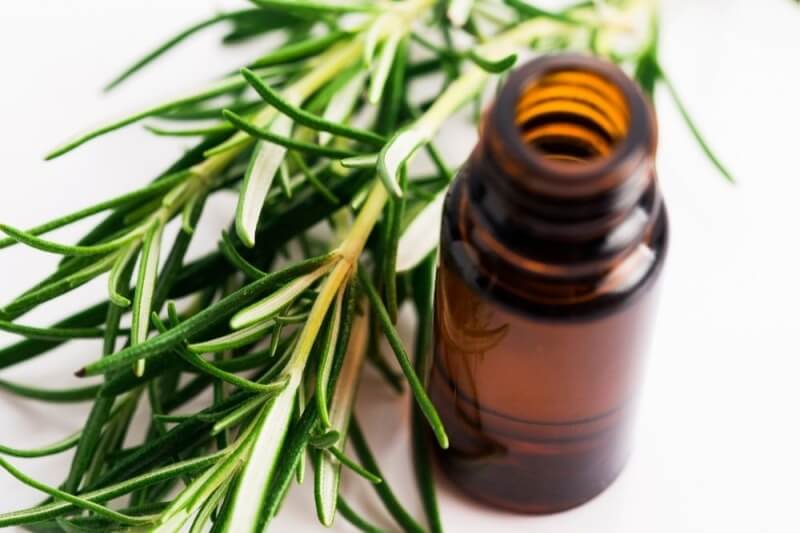 ROSEMARY OIL 101 - ITS USES AND AMAZING BENEFITS
Rosemary essential oil gained popularity due to its incredible uses and benefits, providing nourishment from your hair to your skin! Let us venture more into these buzzworthy applications and perks in this section.
CLEANSING OIL
Rosemary oil contains antibacterial properties. When used topically, Rosemary Essential Oil gently cleanses your skin and promotes healing, leaving it feeling more rejuvenated than ever. Thus, the perfect ingredient to add to your homemade cleansing oil!
Combine rosemary oil with your preferred carrier oil in a glass amber bottle.
Screw on the cap and shake the glass container to mix.
Dab a tiny amount of the oil mixture onto clean hands and massage over the face. Wipe away the oil, grime and makeup with a barely moist or dry washcloth.
It will leave you with clean, smooth, and beautiful skin.
FACE OIL
Rosemary essential oil's antimicrobial, antiseptic, astringent, antioxidant, and tonic characteristics make it a valuable ingredient in skincare products designed to nourish skin and help soothe eczema, inflammation, and acne.
Add aloe vera gel into a mixing dish.
Mix in the rosemary essential oil using a spoon.
Apply a small amount of the mixture to your face with clean fingers.
Allow it to sit on your face for 10 to 15 minutes before washing it away.
Use this mixture daily for optimal results.
HAIR OIL
The qualities of rosemary essential oil in hair care cosmetic goods help strengthen and thicken hair while reducing hair loss, premature greying and soothing dry scalp to eliminate dandruff.
Blend all ingredients (rosemary oil, one carrier oil, and two essential oils) in amber glass.
Cap the bottle and shake it lightly to combine the ingredients.
Massage the mixture into your hair and scalp. Brush or comb the oil through the hair to ensure even dispersion.
You can apply this oil after bathing every day or have a two-day interval to encourage hair development.
MASSAGE OIL
Rosemary essential oil's detoxifying characteristics are favourable when used in a massage. Follow these easy steps in making your perfect massage oil:
In a dark container, combine all ingredients (rosemary oil, one carrier oil, and two other essential oils).
Cap the bottle and shake it slightly to blend the contents.
Apply and massage the oil into the skin for at least 30 minutes to ensure thorough absorption into the skin.
DIFFUSER
Lavish on the wonderful scent of rosemary oil as you casually lounge in your room or do household chores. You can place rosemary essential oil into a diffuser.
Fill a 2 ml glass bottle halfway with rosemary oil and other essential oils you chose.
Roll the bottle between your palms to properly combine the oils.
Add the proper number of droplets to your diffuser based on the manufacturer's recommendations.
AIR FRESHENER
Enjoy the refreshing and revitalising scent of rosemary essential oil by using it for your DIY room fresheners. Eradicate unwanted odour by following these simple steps:
Combine rosemary oil with other essential oils that you chose into an amber glass spray bottle.
Swirl the bottle gently to blend all contents thoroughly.
Pour in distilled water.
Place the spray bottle cap and shake.
You can now spritz the air with your homemade air freshener.
OTHER USES
Aside from what is stated above, rosemary essential oil can be utilised in eye creams, body gels, toning mists, salves, foot balms, hair conditioners, shampoos, hair masks, scented candles, and more.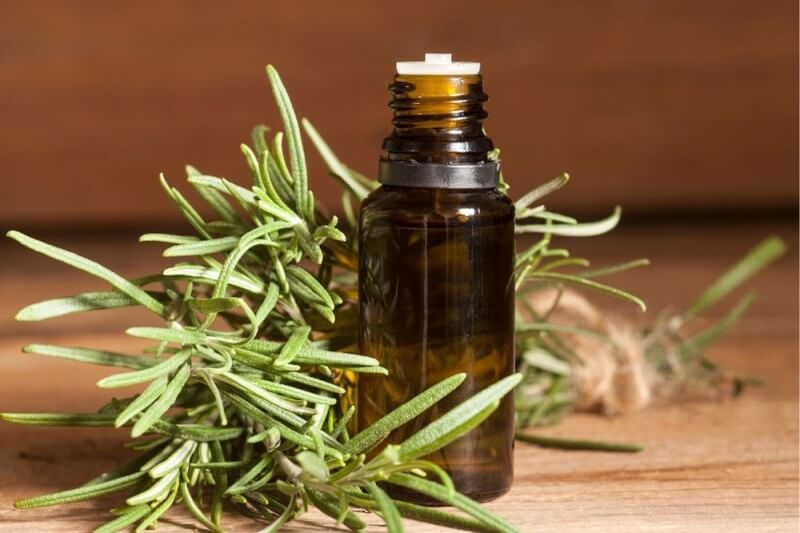 ROSEMARY OIL BENEFITS
Do you know how astounding rosemary oil is? Just like how this powerful essential oil has many uses for beauty and household applications, it also has numerous skin and hair advantages!
SKIN BENEFITS:
Combats acne: Using rosemary essential oil topically can improve skin appearance and fight acne. Minimise the appearance of pimples with the help of rosemary oil's antibacterial, antifungal, and antiseptic properties.It helps destroy bacteria, reduces microorganism development, and slows down the spread of bacteria, fungus, and certain viral organisms.
Free radical scavenging: The antioxidant contents of rosemary essential oil protects the skin from free radical damage and promotes healthy skin.
Soothes the skin: Anti-inflammatory qualities in rosemary oil help soothe and calm inflamed skin.
Regulates sebum production: Rosemary oil helps control sebum secretion by the skin, making it a lifesaver for oily skin types.
Natural astringent: Rosemary essential oil contains natural astringent characteristics, enhancing the skin's texture and tonicity.
Reduces puffiness: Rosemary oil improves circulation, which reduces fluid retention and puffiness on the skin. It also aids in the promotion of even skin tone.
HAIR BENEFITS:
Minimises hair loss: One notable advantage of rosemary oil is the ability to fight hair loss, which is a frequent problem for many people. Rosemary essential oil can stimulate follicles, causing hair to grow longer and thicker.
Voluptuous hair: Rosemary essential oil helps promote full, healthy-looking hair. Consider using Rosemary oil when giving yourself a scalp massage to develop fuller hair.
Great for styling: Using rosemary essential oil on your hair is a fantastic choice when styling or combing your locks to make them look more attractive.
Prevents early greying: Rosemary helps to restore natural hair colour and averts premature greying.
Reduces dandruff: Applying rosemary oil on your scalp assists in removing those annoying flakes by boosting circulation and strengthening the follicles. It also soothes dry and irritated scalp.
MASSAGE BENEFITS:
Rosemary oil is popularly used in massages thanks to its beautiful aroma and regenerating effects. Consider blending Rosemary oil with a carrier, such as a coconut oil, and use it as a massage oil. You may also combine rosemary essential oil and wintergreen essential oil to produce a relieving massage experience while soothing and calming the skin.
HOUSEHOLD BENEFITS
Cleans furniture: Because of its anti-viral, antimicrobial, and antiseptic qualities, rosemary essential oil is a natural DIY multi-purpose cleaning spray used to clean interior spaces and eradicate dangerous microorganisms.
Repels insects: Rosemary oil is a natural alternative to chemical-derived insect repellents that may be harmful to you and your plants. It can decrease the number of insects without hurting the plants. Rosemary essential oil also repels blood-sucking insects that carry dangerous viruses and bacteria.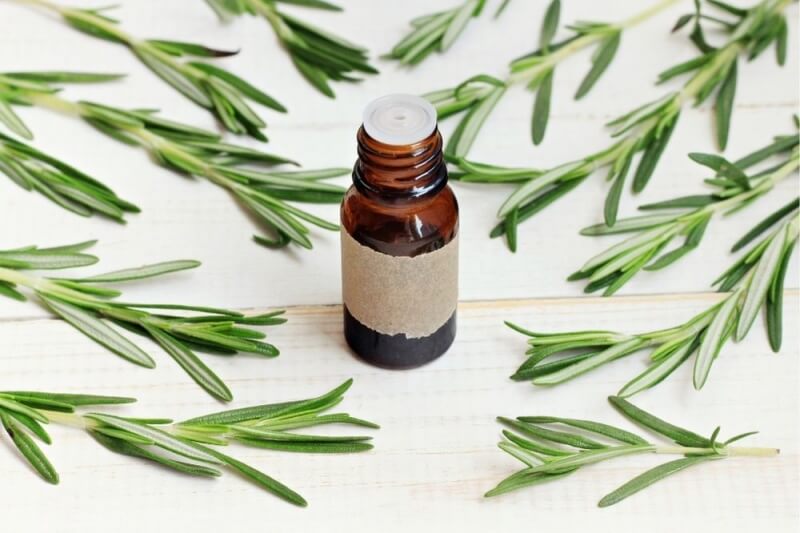 BLEND ROSEMARY OIL WITH DIFFERENT NATURAL INGREDIENTS TO OPTIMISE RESULTS
Get the most out of rosemary oil by blending it with other ingredients. Combining rosemary essential oil with different natural goodies creates a synergistic effect that can boost beauty perks!
CARRIER OILS
ESSENTIAL OILS
OTHER NATURAL INGREDIENTS TO BLEND WITH ROSEMARY ESSENTIAL OIL

RELEVANT QUESTIONS
Perhaps you are already considering adding rosemary oil to your skincare and haircare regimen. If so, there may be things that linger in your mind that you want to ask. Thus, here are some relevant answered questions regarding rosemary essential oil.
Is rosemary essential oil safe to use?
Safe to use for topical applications. However, do a small patch test on the skin first to check for sensitivity or for any allergic reactions.
2.How to choose the right rosemary oil?
Don't just accept any advertised rosemary essential oil brand that comes a-knocking. Choose wisely by checking if it's natural and underwent steam distillation.
3.How to dilute rosemary essential oil?
Since applying rosemary oil straight to your skin in its concentrated state can be dangerous, always dilute it with a carrier oil. Here are some general rules to follow when diluting oils for topical use:
Babies: Blend one drop of rosemary essential oil for every tablespoon of carrier oil.
Children: Blend one drop of essential oil for every teaspoon of carrier oil.
Adults: Blend three to six drops of essential oil for every teaspoon of carrier oil.
Note: Remember that what works on others might not work well on you. Hence, it is important to conduct prior research on the proper amount depending on your skin or hair type.
FINAL THOUGHTS
Rosemary oil has fascinating skin, hair, and household benefits that make it perfect for use in plenty of applications. Whether you are a business owner looking for an all-natural alternative to traditional cleaners or a hobbyist looking for an eco-friendly and sustainable way to enjoy crafting your homemade goodies, rosemary essential oil is definitely worth considering.
GET THE BEST ROSEMARY OIL ONLY AT N-ESSENTIALS!
If you are searching for the best quality rosemary essential oil, look no further than N-Essentials. We only offer the highest quality essential oils, and our rosemary oil is no exception. Order yours today and see the difference our products make!
Feel free to drop by our online store to discover more sensational products, blogs, e-books and essential perks . Visit our FAQs site to answer some of your questions, or you can contact us directly for more in-depth inquiries.