Want to look younger? Consider switching some of your commercial beauty products for soybean oil. Yes, you heard it right! Soya oil is not limited to cooking, but it is also available in a cosmetic grade you can infuse into your skincare regimen. Read on to discover more about this hidden gem and its beauty secrets!
EVERYTHING YOU WANTED TO KNOW ABOUT SOYBEAN OIL
Soybean oil, also known as soya oil and glycine soja oil, is extracted from soybean seeds. It has a neutral odour and is a common ingredient in soaps, shampoos, and other personal care products. Soybean oil is a natural replacement for many chemical-derived oils. Soya oil has plenty of utilisations, but its skin and hair applications are undeniably remarkable.
SOYBEAN OIL: THE NEXT BIG THING IN THE WORLD OF PERSONAL CARE
There is a reason why soybean oil is a common ingredient in skin and hair products! Soya oil is excellent for beauty products for its numerous benefits. One of its notable benefits includes being an affordable alternative to high-end products. Besides being wallet-friendly, soybean oil is jampacked with skin and hair-loving nutrients!
SOYBEAN OIL SKIN BENEFITS
Provides quality components: Soybean oil containsproperties such as antioxidants, vitamins, minerals, and fatty acids essential for a healthy and youthful complexion.
Promotes young-looking skin: Vitamin E found in soya oil works wonders on your skin by helping prevent skin damage and promotes anti-ageing by reducing wrinkles and skin damage.
Natural cleanser: Switch out your current oil cleanser for a more natural product blended with soybean oil. Soya oil helps remove dirt and excess sebum from your skin, making it look cleaner and refreshed after every use.
Moisturise your dry skin: Factors like too much sun exposure can leave your skin feeling dry. Consider replacing your current moisturiser with soybean oil as a natural alternative.
Lighten Dark Spots: Soya oil helps lighten dark spots caused by excessive sun exposure while leaving your skin moisturised and nourished.
Soothes your skin: Vitamin A in soybean oil provides anti-inflammatory abilities that help reduce redness and swelling due to acne and sun damage.
SOYBEAN OIL HAIR BENEFITS
Moisturises your locks: Excessive shampooing can strip your hair of its natural oil, leaving it dry and frizzy. Replacing shampoo with your custom-made soybean oil hair product will help restore moisture to your tresses. Furthermore, soya oil can work as a styling agent to help your hair stay hydrated, manageable, and shiny when used with a conditioner.
Supports hair growth: When experiencing unwanted hair loss, soybean oil has your back! Soya oil is brilliant for boosting hair growth due to its Vitamin E content. Another advantage of soya oil is that it helps nourish the scalp, making it essential for healthy-looking hair.
Provides shine to your hair: Soybean oil is non-greasy whilst supplying your tresses with ample lustre action. You can now worry less about oily roots. Soya oil is considerably lighter and a fantastic choice for softening and smoothing hair cuticles than other oils that may support grease and weigh down the hair. Moreover, soya oil locks in moisture and leaves your hair glossy and shining.
YOU MUST TRY THESE SOYBEAN OIL APPLICATIONS NOW!
In this day and age, people are looking for healthier alternatives to their skincare regimen. The best thing about soybean oil is that you can use it boldly without the harsh chemicals in most commercial products like moisturisers, shampoos and conditioners. With this in mind, here are some applications you start crafting with soya oil:
MOISTURISER
Soybean oil in skincare thrived for centuries in Asia but has now reached worldwide due to its vitamins, anti-inflammatory and moisturising properties. This DIY soya oil moisturiser will leave your skin looking soft, supple, and radiant. Try it now with just two steps!
DIRECTIONS:
With your fingertips, apply 2 to 3 drops of the oil to your skin.
Leave it on your skin as there is no need to rinse it off afterwards. Repeat once a day.
FACIAL CLEANSER
Soybean oil is a perfect, inexpensive and natural facial cleanser. Soya oil is an excellent choice since it has many benefits. Enjoy a toxin-free product that cleanses your face!
DIRECTIONS:
Take a small amount of oil and place it on your palms.
Massage it on your face for 1 to 2 minutes.
Wet a soft washcloth with warm water and gently remove the oil by massaging it around your face.
Dry your skin by lightly dabbing a dry face towel or letting it dry on its own. Your skin will feel very soft compared to harsh cleansers that leave your skin tight and irritated.
MAKEUP REMOVER
Soybean oil is an all-natural alternative to commercial makeup removers. Soya oil is very gentle on the skin and has moisturising properties. Soya oil is an excellent addition to makeup remover formulas since it does not contain harmful chemicals to the skin.
Directions:
Combine soybean oil and water with the same amount in a small bottle.
Shake thoroughly every time you use it since oil and water technically do not mix.
Apply it on a cotton ball or pad and gently remove your makeup.
BODY BUTTER
Soybean oil is a popular ingredient in body butter because it is a natural moisturiser and emollient, which softens, moisturises and soothes the skin. Soya oil can be a substitute for mineral oil or petroleum jelly. You can start making your DIY body butter with these simple steps:
DIRECTIONS:
Melt shea butter in a small saucepan over low heat, and stir it regularly to prevent burning. Do it until it completely melts.
Add the soybean oil, cornstarch, and essential oil . Mix using a whisk.
Put a small basin into a large one containing ice water, then place in the mixture.
Add a few drops of vitamin E oil .
Whip the mixture with a hand mixer until it is thick and creamy, similar to frosting. Continue mixing until soft peaks form.
Fill up your container with the mixture.
Apply the body butter freely to your body.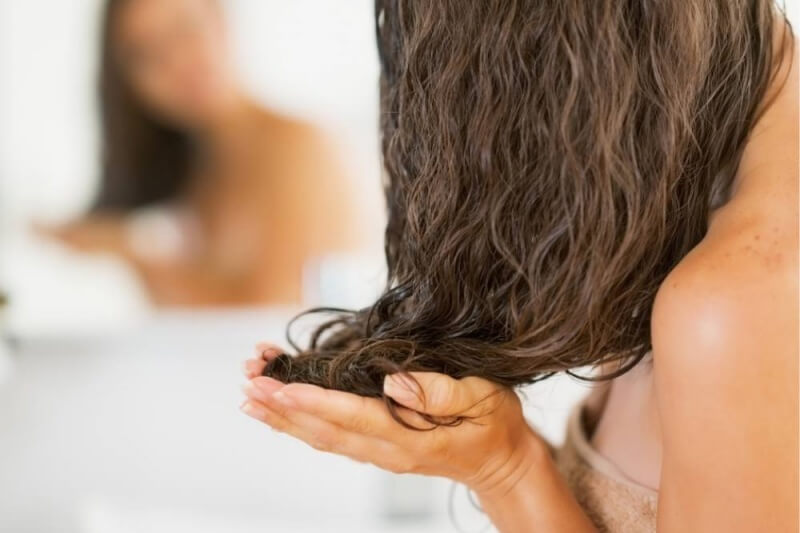 HAIR CONDITIONER
People with damaged or dry hair can use soybean oil as a conditioner. Soya oil will moisturise the scalp and make your hair shiny again. It is easy to apply and affordable. Once you try soya oil out, you'll wonder why you didn't discover it earlier!
DIRECTIONS:
Apply an adequate amount of soya oil to your hair and scalp.
Use a shower cap or plastic wrap to cover your hair.
Leave the oil on your hair for 30 minutes to an hour.
Rinse, shampoo, condition, and style.
Tip: You can heat the soybean oil in an oven using an oven-safe bowl for hair treatment.
SEALER
Soybean oil helps seal other skincare products like serums, moisturisers, and lotions by providing a barrier between them and your skin. Soya oil seals in moisture that would otherwise escape from your face throughout the day.
DIRECTIONS:
After using your cleanser, serum, or moisturiser, pat 2 to 3 drops of soybean oil over your skin.
It aids in the penetration of other essential oils or products into the skin.
SOAP
Soybean oil is a significant ingredient in some soaps because it is an exceptional cleanser and moisturiser. Soap is a basic necessity, but using soybean oil can lead to dramatic changes in how the soap will feel on your skin. Go and try it out yourself to experience soya oil's sensation!
DIRECTIONS:
Begin by calculating your formula for the amount of soap to determine the exact amounts of water, lye, and fats.
Put on your safety gear (gloves and eye protection) and clothes (apron and long sleeves). Prepare your soap mould.
Melt all the oils (two hard oils like coconut oil and two liquid oils like soya oil) together in a soaping pot. Prepare three extra containers with pouring spouts.
Let the oils cool down (slightly warmer than room temperature).
While waiting for the oils to cool, create the lye solution (sodium hydroxide and distilled water). Allow it to cool.
When the lye mixture has cooled to a temperature comparable to the mixed oils, gently add the lye to the oils.
Mix the soap batter with a stick blender (immersion blender) until it thickens and becomes opaque (reaches trace).
Pour the mixture into the mould halfway.
Cure and set. Allow the soap batter to cool and solidify entirely for at least 24 hours.
Remove the soap from the mould once it hardens and cut it into bars.
Allow it to sit for a few more days if the bars are too soft, and cure in a well-ventilated area for 3 to 4 weeks. This method will result in a longer-lasting soap.
OTHER APPLICATIONS
Aside from the aforementioned, you can infuse soybean oil in plenty more uses. Instil soya oil in these applications:
Shower oil
Conditioning beard oil
Oil mist
Tattoo salve
Facial oil
Scalp oil
Body scrub
Massage oil
Sunscreen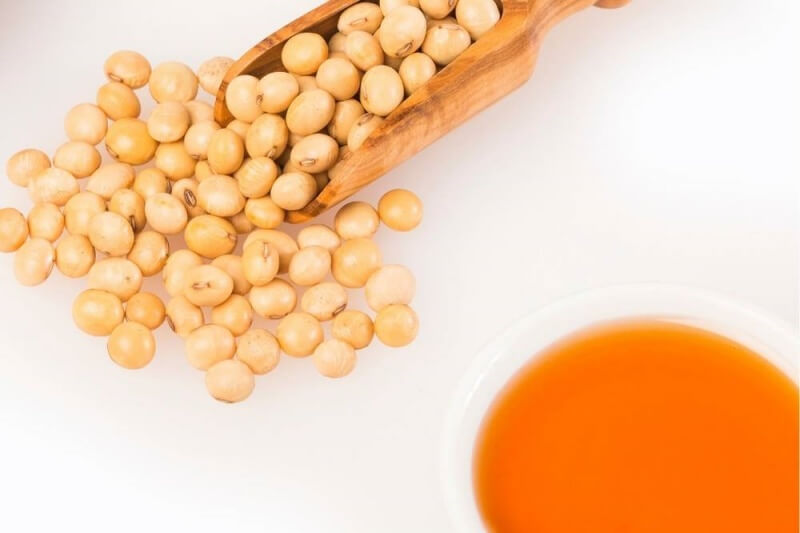 MIX AND MATCH SOYBEAN OIL WITH OTHER INGREDIENTS TO OPTIMISE SKIN AND HAIR BENEFITS
You can maximise the skin and hair benefits when blending soybean oil with other natural ingredients! There are several possible perks you can create with these combinations:
FOR SKIN:
FOR HAIR: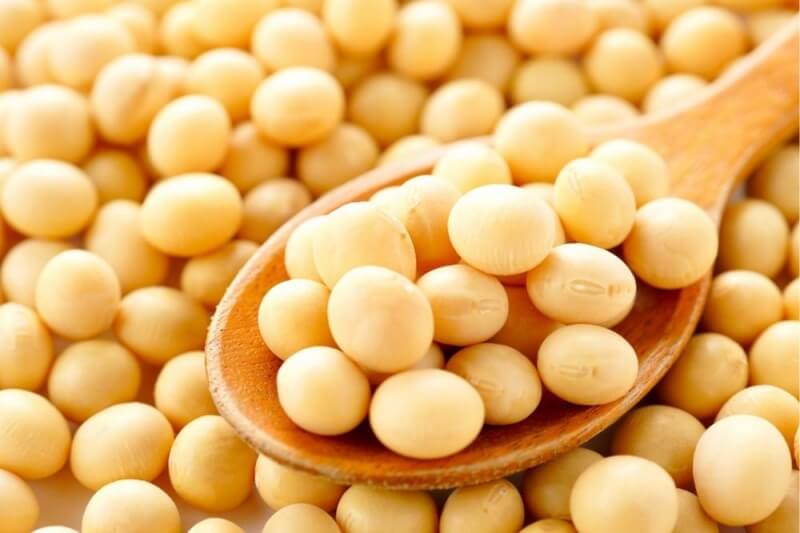 RELEVANT QUESTIONS
1.Is soya oil safe to use?
Yes, soya oil is safe and non-toxic for external use if you. However, always make sure to acquire non-GMO soybean oil products. Also, conduct a skin patch test or consult your medical doctor before using soya oil to prevent allergies from emerging, especially if you are allergic to soy.
2.Is it okay to apply soya oil on acne-prone skin?
Soya oil on its own is comedogenic, which means it might not be friendly to acne-prone skin. However, once soybean oil is blended into a product formulation, it may have a less comedogenic effect.
FINAL WORDS
Soybean oil may not be as popular as argan oil or rose oil, but it can be just as good for the skin, especially on dry skin. Soya oil acts as a rich sealing, moisturising, cleansing, and soothing agent for many skincare and haircare brands. Soya oil has been under the radar for many years, but it is surely worth telling the world about it!
BUY SOYBEAN OIL AT A VERY AFFORDABLE PRICE
Who said you cannot get the best beauty benefits at an affordable price? Inculcating soybean oil into your skin and hair routine makes it possible to have the glow up you desired! All the more when a distinguished supplier like N-Essentials has got your back.
We are a wholesale provider of quality ingredients tailored to fulfil your skincare, haircare, and other personal care craft needs. All our products are affordable, so you do not have to break the bank, and widely accessible that you can order them no matter where you are in the world! Start your journey with us by visiting our online catalogue. Purchase our various high-quality natural goods and wait for your order to be delivered right to your doorstep.
Head over to our FAQs page or contact us directly for lingering questions.